What To Do
Everything you need to know about our Community Open House.
Base31 is excited to welcome Prince Edward County to our Community Open House on Saturday, July 9 from 12pm to 6pm!
Come explore the site, participate in one of our many free activities offered by local artists, enjoy some awesome food, take a tour, and see our destination in progress.
Parking
First things first! We have a new parking lot at the north end of Base31 accessible via Kingsley Road. For those of you coming up the Church Street Hill, take a left onto Kingsley Road.
If you're traveling from County Road 10, please head past the 2 entrances on County Road 22 and turn right onto Kingsley Road.
Information
There are a lot of different activities happening at this event, and we have lots of space to explore! Make sure to pick up a brochure including a site map and schedule of activities when you enter.
You can find the brochures at our Information Booth outside of Building 26 or at the Army Truck near the Kingsley Road parking lot. We also have Base31 merch, snacks, and more!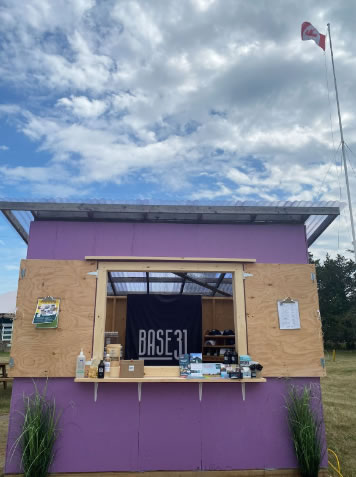 Food & Beverage
We hope you come with an appetite, because we've got some great food options for you!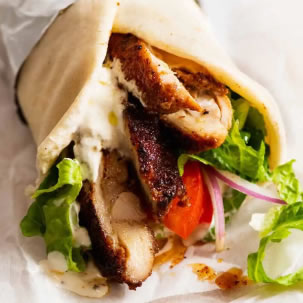 We're excited to introduce you to Shway Shway Takeaway Prince Edward County's newest Falafel and Shawarma stand is proudly brought to you by the Aljasem family. They'll also be serving up burgers, slushies and cold drinks!
Music
Enjoy the retro musical duo
Roper & Roper
in front of their solar-powered van at The Sergeants Mess Hall between 12pm and 5pm.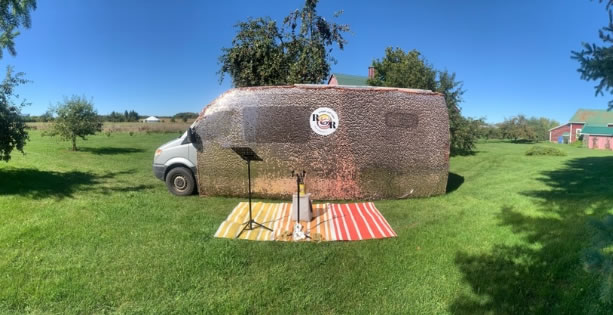 The Rickartons
Local band
The Rickartons
will be playing from the garage of Building 26, right next to the visitors booth from 12pm to 4pm. The Rickartons have been a staple of the region's music scene for well over a decade, first as The Zeds before reforming as the Rickartons in 2019.
They play fun stuff from the 80's and 90's – whatever might make you sing and/or dance! You might know frontman Craig Foster from his work at 99.3 County FM. Craig is also an established original artist, appearing at this year's Sandbanks Music Festival.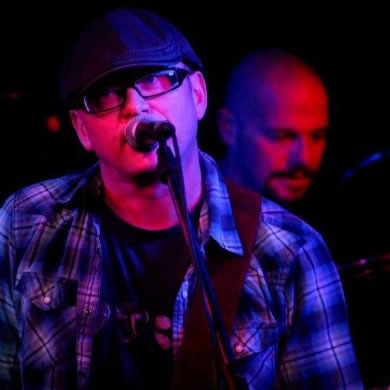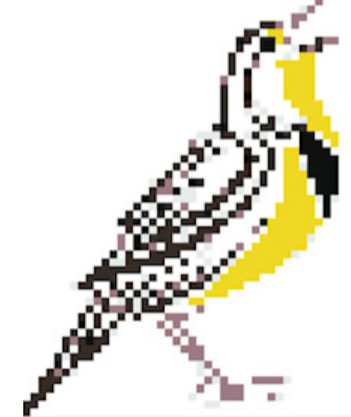 Entertainment & Activities
The afternoon begins with the Unveiling of the Artwork in The Aviators Garden at 12:30pm.
In reverence of all things that fly, we invited artists to help us explore the theme of "Nature's Aviators," and in April we published a formal call for submissions for large scale original works to be installed on the exterior of one of our buildings.
Please join us in celebrating artists Portia Chapman, Bill Greaves, Frank Hannan, Milê Murtanovski, Steph Payne, Vanessa Rieger and Constance Intounas on their winning submissions.
The Department of Illumination
will be creating a mural out of Post-Its and they need your help! Find them in the old bar of The Sergeants Mess Hall and assist them in creating the image of one of Nature's Aviators from 12pm to 6pm.
The Pluto Love Tenderness Academy presents @ioncewasacrocodile performing spoken word from 12pm to 6pm. Instapoet @
ioncewasacrocodile
does live poetry, writing stanzas with the theme of community love for patrons that provide a word of inspiration.
The first 60 participants get a polaroid to take with them, or can request to have their poem performed live as spoken word.
Fantastic Face & Body Art
will be providing free airbrush tattoos and
Mr. Bazinga
will be providing balloon twisting from 1pm to 4pm in Building 31.
Picton's Favourite Stilt Walker, Milé Murtanovski, will be delighting us with his stilt walking around Base31 from 1pm to 5pm. Make sure to say hello and stop to take a photo!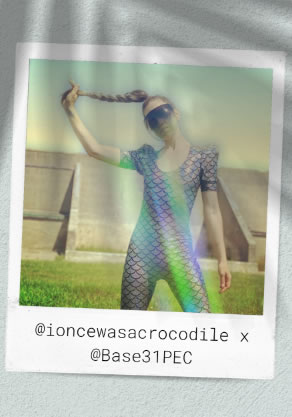 Ever wanted to learn more about the local Flying Club? Now is your chance!
The Prince Edward Flying Club, now celebrating its 69th anniversary, invites you to meet some local pilots, view their airplanes and chat with members about our aviation community.
Meet them at the clubhouse, which is located at the southwest corner of Base31, from 2pm to 4pm.
Join
Baxter Arts Centre
instructor Egan O'Sullivan for 30 minute mini painting classes offered between 1pm and 4pm.
Paint a tiny garden sculpture that you can take home with you at the end! Make sure to sign up in advance at their tent outside of Building 26 to secure your spot.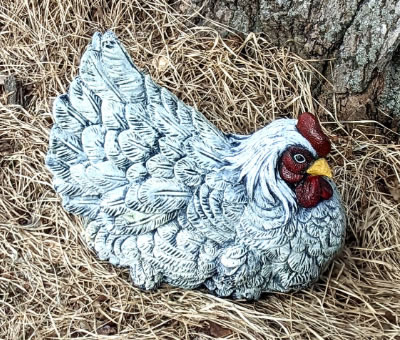 Looking to explore the site? You won't be disappointed! Head southwards to the Lecture Hall (Building 17).
You'll know you've reached the right spot when you see some colourful huts on the former tennis court! Stick around for a fun Hula Hoop Performance! (Schedule TBD on July 9)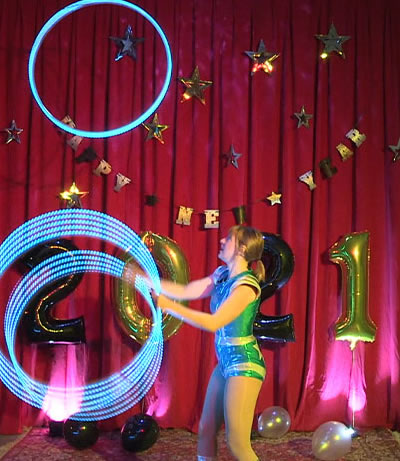 Walking Tours
Historical Walking Tour
With Former Property Manager Jacqui Burley
Delve into the history and stories of Base31 with resident expert Jacqui Burley, the former Property Manager of the site when it was known as Loch Sloy. With 20 years of experience in managing the day-to-day business and hosting events onsite, Jacqui shares her knowledge on the history of the buildings, memorable moments, and notable people who make up the rich history of Base31. Tickets must be purchased in advance.
2pm – Meet at the Information Booth
Base31 Garden Tour
With Head Gardener Nicki Ramjass
Tour the Base 31 gardens with Nicki, our Head Gardener! Her walk through the Alvar ecosystem will help guests to understand what is below the mulch now and what may emerge in the future. Come find out what a Hugelkultur is!
1:30pm & 4pm – Meet at the Information Booth
Base31 Placemaking Tour
With Chief Placemaking Officer Assaf Weisz
Join our Placemaking Tour on Saturday to learn more about how Base31 can be a canvas for creativity. Hear how we're fusing art, ecology, events and more to bring this place to life!
1pm & 3pm – Meet at the Information Booth
Base31 Tenant Open House
Did you know we have dozens of tenant businesses up at Base31? Make sure to take a tour and see all of the interesting folks who are creating and working onsite every day!
Melt Gallery
Melt Gallery
will be open from 12pm to 6pm. If you arrive closer to 12pm, visitors will be able to catch the tail end of a
PAUSE experience
where participants will be working to complete their encaustic collage inspired by their nature walk earlier that day. Visitors can also tour Susan Wallis's solo show LAND|WATER|SKY followed by a live demonstration at 2:30pm of the ancient medium of encaustic painting. Finally, to celebrate the opening of Base31, the 31st visitor will win a Melt Gallery gift bag!
Maison Depoivre
Enjoy 2 exhibits taking place at Maison Depoivre between 11am and 5pm. The first exhibit is called "Conversations" presenting mostly PEC artists. The second exhibit "Unexpected Summer" which just opened July 1, showcasing unconventional and thought provoking artwork by various Canadian artists.
Escape Camp Picton
Escape Camp Picton will have a simple puzzle box outside and will also be selling the Arrows Secret play at home escape room in a box.
Side x Side Studios
Wendy Vervoort (Objects in Clay) and Edward Klein (Guitars & Other Works in Wood) of
Side x Side Studios
have opened their studio door this year offering a gallery shop welcoming those interested in fine craft. To help celebrate Base31's Community Open House, Wendy will be engaging with the young visitors directly outside their studio under a tent making small 'Nature's Aviators' such as Ladybugs and Bumblebees out of clay, weather permitting.
Ed will be inside happy to discuss his designs in wood and what is involved in the making of a guitar. Covid protocols for everyone's continued safety are in place. Side x Side Studios will be open 11am to 6pm.
Wallis Design Build
Wallis Design Build will have their items outside for sale along with a small display of what they do including the various awards they manufacture. See the in-house designed bed and mobile sauna on display along with our always popular Cold Plates made from marble repurposed from the facade of First Canadian Place in Toronto.
County Duck Calls
Ever wanted to see how a duck call is made? Talk to a professional wood-turning specialist, and maybe even get a chance to see the lathe in action!