BASE31 VISITOR INFORMATION
WHAT YOU NEED TO KNOW ABOUT VISITING BASE31
We look forward to hosting you at Base31 in Prince Edward County – a cultural destination in progress on site of a former WWII air training base. 
This community is full of beauty, spectacle, and activities for all to enjoy. 
Prince Edward County is located two hours east of Toronto, 3 hours southwest of Ottawa, and 3.5 hours West of Montreal. Known for its array of wineries, craft breweries, and sandy beaches, consider adding Base31 to your County bucket-list or weekend fun whether you're a local or a beloved visitor. 
BASE31 VISITOR CENTRE
Please note: The
Base31 Visitor Centre
is located at the main entrance in Building 26 and is now closed for the winter season. To access site maps, ask questions, and for general information, please feel free to stop by the Main Office, call us at 613-476-3064 or
email
Please note bike and golf cart rentals are over for the winter season. 
The site is open all season! Check out the Events page to see what's on until the end of December.
Office Hours
Our office hours are Monday – Friday between 8.30am – 4.30pm.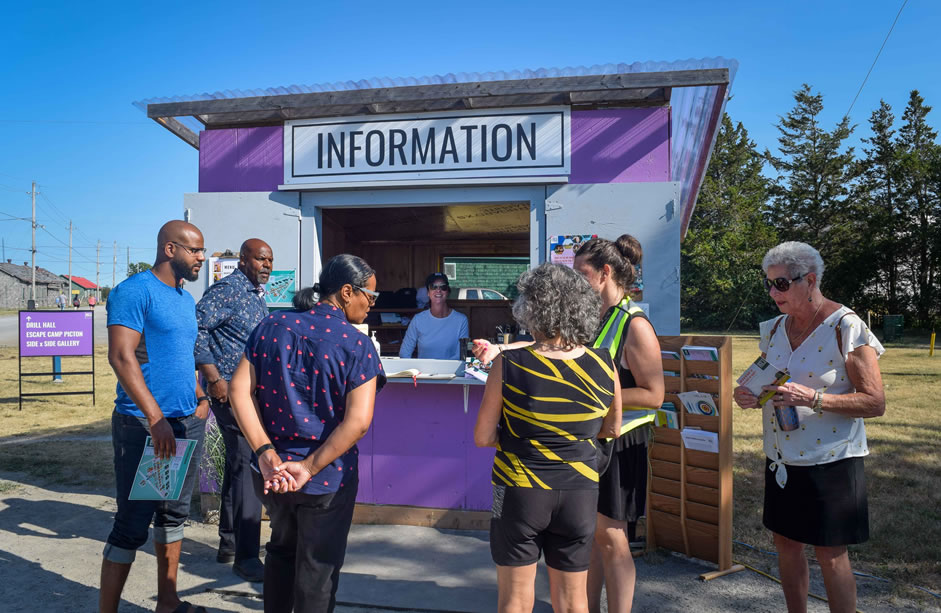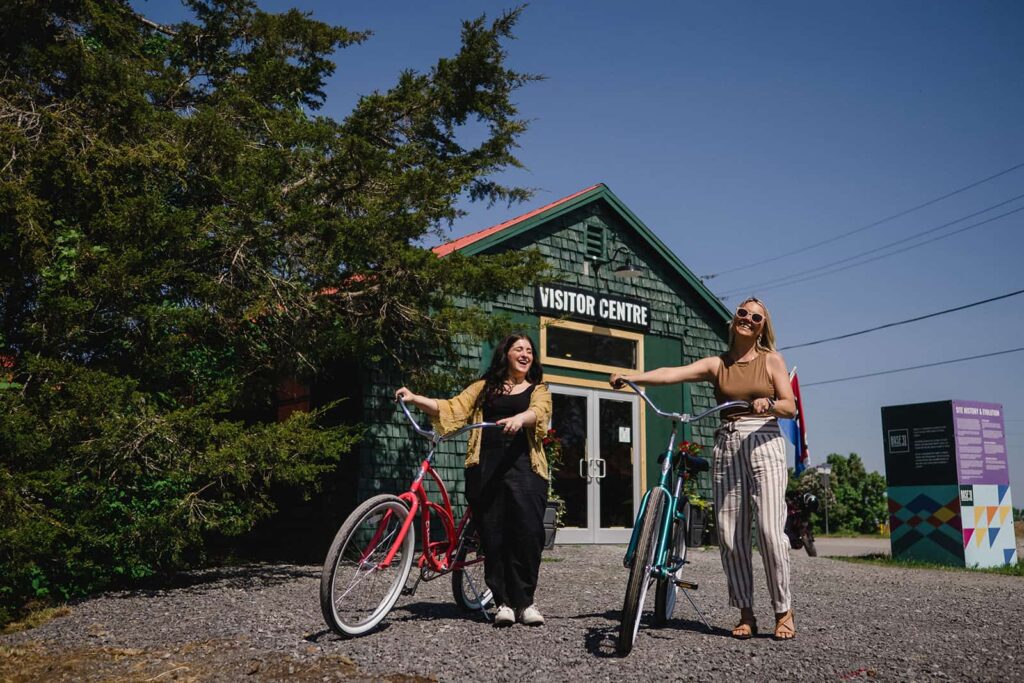 BASE31 RENTALS
We are pleased to offer golf cart rentals and bike rentals to enhance your experience while exploring our site. Whether you prefer to cruise around on a convenient golf cart or enjoy a leisurely bike ride, we have options to suit your needs.
To ensure a smooth rental process, we have set up our Visitor Centre as the designated location for all rentals. Here, you can easily find our rental desk and friendly staff who will assist you in selecting the perfect mode of transportation for your adventure.
Golf Cart Rental Price:
$20/hour (2 hour minimum)
$70/half day (4 hours)
Bike Rental Price:
2 hours – $16
Half Day – $30
PLACES TO STAY
Looking to stay in the area? Consider our preferred accommodation partner – The Waring
House. This stunning restaurant, inn, conference centre and cookery school is just a five-minute drive from Base31.
There are a variety of options for staying in Prince Edward County to meet every preference and every budget. Please check out the map below, powered by Stay22, for a reference to Booking.com hotels and VRBO short-term accommodations close to Base31. Airbnb also has short-term accommodation you can search via their website.
The Stay22 map below defaults to show listings available for the next 90 days. In this map view, prices for hotels, as found on Booking.com display a 1-night stay total price. Prices for short-term accommodation, as found on VRBO.com display a 3-night stay plus applicable fees total price. Minimum night stays are defined by each location and may vary. Please read the policies for each location before making your selection.  Base31 is not affiliated with any of the accommodations listed on the Stay22 map. This service is provided as information only. Base31 is not responsible for the accuracy of the information, and no endorsement of the facilities should be implied.
DIRECTIONS
Please click Directions in the map to get exact step by step directions on Google Maps
ACCESSIBILITY
At Base31, we take accessibility seriously. We want the community and visitors who journey to our site to feel safe and seen.
As Base31 embarks on years of revitalization, it is paramount that it prioritizes accessibility.
Here are a list of things we have implemented on site, to ensure Base31 is compliant with the Accessibility for Ontarians with Disabilities Act (AODA)
As Base31 considers its site and all visitors, it is front of mind to install larger entry ways on all of our buildings, and to include accessible push buttons on main doors. Though this is still in progress and not yet implemented, Base31 thanks everyone for their patience. We will continue our work to ensure the property, its buildings, event venues, art galleries and other public spaces are welcoming and accessible for all.
Base31 will work to ensure the event venues, art galleries and other public spaces meet accessibility standards.
We ask our community to please reach out with any feedback, questions or concerns regarding accessibility. Please contact us
Accessible porta potties are on site 24/7 for site visits and events
The Base31 site is flat, therefore people can explore the site and its buildings with ease.
The Base31 Drill Hall concert venue has an accessible ramp that leads to the licensed patio.
All areas of Base31 are wheelchair accessible. However, some buildings including our main venues (The Drill Hall, Sergeants Mess Hall and Lecture Hall) are being revamped to include wider doorways, ramps and automatic door buttons to be installed in future
Base31 has an accessible parking lot located near The Drill Hall event venue (Building 20)
Base31 is proud to be Rainbow Registered
Base31 Partners Inc. is proud to be among several Prince Edward County organizations who provide an inclusive space. The Base31 team and site partners will continue to make meaningful connections with like-minded people, groups and organizations to support the 2SLGBTQIA+ community and allies.
We are proud to partner, collaborate, co-create and learn from other queer businesses, humans and corporations to offer a safe environment for everyone in our community and who visit us from afar.
The Base31 venues, outdoor spaces, office, visitor centre, and team reflect values of inclusivity, safety and belonging