Hailey Gillis & Andrew Penner
County Stage + Base31 Present Hailey Gillis & Andrew Penner
Hailey Gillis and Andrew Penner bring you a reinvention of songs from this century's greatest songwriters that both offer comfort and ask questions. Having worked together most recently in County Stage Company's, critically acclaimed hit The Shape of Home, these award winning virtuosic performers now offer you songs that reflect on every moment, big and small.
Hailey Gillis is a performer, writer, and composer currently working and creating in Toronto, Ontario. Last summer, she was one of the co-creators and performers of the acclaimed THE SHAPE OF HOME: SONGS IN SEARCH OF AL PURDY for County Stage. Hailey has worked in many different mediums as a performer, arts educator, and writer across Canada from Charlottetown PEI to Vancouver BC, as well as off-Broadway in NYC
Andrew Penner is an award-winning performer, musician, composer, sound designer, music director and producer who can be heard on over 50 albums of various styles and has performed extensively throughout North America and Europe. Last summer, he was one of the co-creators and performers of the acclaimed The Shape of Home: Songs in Search of Al Purdy for County Stage.
Shows are all ages as long as any minor is accompanied by an adult. Please refer to our safety policy if you have any questions.
ABOUT THE VENUE
Sergeants Mess Hall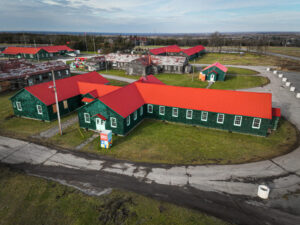 The 175-seat Sergeants Mess Hall at Base31 is the newest performance venue to open in Prince Edward County. This architectural gem has been renovated and repurposed as a unique and intimate concert venue, featuring state-of-the art sound and lighting, with its original historic charm and character retained. Now with an alluring, cabaret lounge feel and  elevated bar service, this gem of a venue ensures a sophisticated, enjoyable and warm concert experience. The space features both reserved seating at cabaret tables and general admission seating ticket options. Enjoy some of the most legendary and impressive names in music, sharing the music you already love, along with your favourite tunes revisited by new artists we know you'll become instant fans of. The Sergeants Mess Hall is an up-close and personal experience with the best of the stage in a beautifully reimagined setting. An unforgettable entertainment experience; it doesn't get any better than this. 
The Sergeants Mess Hall has a rich history dating back to its construction in 1939. The building was originally built as a mess hall for the Royal Canadian Air Force (RCAF) No. 31 Bombing and Gunnery School during World War II. During the war, the building served as a gathering place for the sergeants who were stationed at the base. It was a place where they could relax, eat meals, and socialize with their fellow soldiers. After the war, the base was decommissioned and the building served a variety of purposes over the years, including as a community center, a school, and a storage facility.
General Admission Seating
Seating is first come, first served in this section.  Please do not save seats for individuals who have not yet arrived. Our goal is to create an enjoyable and comfortable experience for all attendees. Thank you for your cooperation and we look forward to seeing you at the event!
Reserved Seating
We are excited to offer reserved seating for our upcoming event. Please note: our tables at the Sergeants Mess Hall are arranged as tables of four. If you purchase less than four tickets, you will be seated with other attendees at a small table cabaret style. We hope this seating arrangement will provide a fun and sociable experience for everyone. Thank you for your understanding and we look forward to hosting you at the event.
The Sergeants Mess Hall
343 County Rd 22 #7, Prince Edward County