James Bond: The Songs of 007
County Stage + Base31 Present: James Bond: The Songs of 007
An incredible 25 movies in, the James Bond franchise is known and loved around the world. Rejoicing in each of the inimitable theme songs, multiple award-winning solo show playwright and performer Rebecca Perry sings each and every one, from pop songs to rock numbers to romantic ballads!
Created and performed by Rebecca Perry
Musical arrangements by David Kingsmill with contributions by Rebecca Perry
Accompanied by David Kingsmill

Want to enjoy more great music for less? Save 20% when you attend two shows within our Songbook Series Package, celebrating some of the greatest songs of our time, including A Night in Vegas on August 23, Barbra Sings Bacharach August 9 or September 1, Rebecca Perry's James Bond: The Songs of 007 August 11 and 12, Queens of Country August 25, Honky Tonkin' with the Song of Hank Williams August 30, and Jackie Richardson September 2. To select our Songbook Series Package head on over to the following link to select your two shows.
David Kingsmill is a Toronto-based pianist, singer, composer and writer, originally from London, England. He has sung at the Royal Albert Hall, accompanied West End and Broadway performers, and Out of the Lens, a musical he co-wrote with UK musical director Nicholas Chave, had a successful run at the Edinburgh Fringe, going on to transfer to performances off-West End and in Toronto. He is also a narrative designer for video games, and in his spare time he is an avid board gamer. He has toured with Rebecca for over 7 years as a stage manager, arranger and musical director, and – as an avid James Bond fan – is delighted to have had the chance to help with the creation of Bond, James Bond: The Songs of 007.
Rebecca Perry is a multiple award-winning, Toronto-based playwright, actor, singer and producer. She is best-known for her solo shows Confessions of a Redheaded Coffeeshop Girl and From Judy to Bette: The Stars of Old Hollywood which have toured the English-speaking world, with performances from coast to coast in Canada, all over England and Scotland, and into Europe. They also both sold out their respective runs at the Edinburgh Fringe.Shows are all ages as long as any minor is accompanied by an adult. Please refer to our safety policy if you have any questions.
ABOUT THE VENUE
Sergeants Mess Hall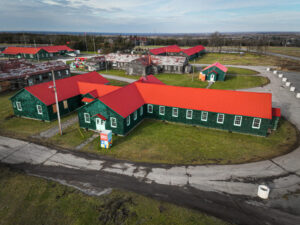 The 180-seat Sergeants Mess Hall at Base31 is the newest performance venue to open in Prince Edward County. This architectural gem has been renovated and repurposed as a unique and intimate concert venue, featuring state-of-the art sound and lighting, with its original historic charm and character retained. Now with an alluring, cabaret lounge feel and  elevated bar service, this gem of a venue ensures a sophisticated, enjoyable and warm concert experience. The space features both reserved seating at cabaret tables and general admission seating ticket options. Enjoy some of the most legendary and impressive names in music, sharing the music you already love, along with your favourite tunes revisited by new artists we know you'll become instant fans of. The Sergeants Mess Hall is an up-close and personal experience with the best of the stage in a beautifully reimagined setting. An unforgettable entertainment experience; it doesn't get any better than this. 
The Sergeants Mess Hall has a rich history dating back to its construction in 1939. The building was originally built as a mess hall for the Royal Canadian Air Force (RCAF) No. 31 Bombing and Gunnery School during World War II. During the war, the building served as a gathering place for the sergeants who were stationed at the base. It was a place where they could relax, eat meals, and socialize with their fellow soldiers. After the war, the base was decommissioned and the building served a variety of purposes over the years, including as a community center, a school, and a storage facility.
General Admission Seating
Seating is first come, first served in this section.  Please do not save seats for individuals who have not yet arrived. Our goal is to create an enjoyable and comfortable experience for all attendees. Thank you for your cooperation and we look forward to seeing you at the event!
Reserved Seating
We are excited to offer reserved seating for our upcoming event. Please note: our tables at the Sergeants Mess Hall are arranged as tables of four. If you purchase less than four tickets, you will be seated with other attendees at a small table cabaret style. We hope this seating arrangement will provide a fun and sociable experience for everyone. Thank you for your understanding and we look forward to hosting you at the event.
About County Stage
County Stage (formerly Festival Players) is a thriving performing arts organization located in the scenic region of Prince Edward County. With 17 seasons of experience, they bring together prominent Canadian artists to showcase their talents against the backdrop of The County's beautiful rural landscapes. 
Their work is deeply rooted in the community, inspiring creativity and fostering a sense of pride. They produce innovative and imaginative theatre for audiences seeking engaging experiences.
Since 2006, County Stage has presented over 100 performances in unique venues, serving both local residents and cultural tourists. With values of responsibility, inclusivity, and respect, they aim to establish Prince Edward County as a nationally recognized centre for artistic excellence.
The Sergeants Mess Hall
343 County Rd 22 #7, Prince Edward County