Shakura S'Aida's New Year's Eve Bash
Join us for a night of unforgettable New Year's Eve festivities as Shakura S'Aida takes us on a musical journey to welcome in 2024. Shakura S'Aida holds a special connection to Prince Edward County, as her family once owned and operated The Stache on Main in Wellington, renowned for its magical New Year's Eve events. Now, she's back to recreate that magic with a spectacular performance that promises to make your New Year's Eve memorable.
Shakura S'Aida and her talented band are here to help you ring in the New Year with a fantastic selection of your favorite 60's hits. S'Aida and her band will be performing various tracks including the sounds of Diana Ross, The Supremes, Elvis Presley, The Beatles and many more. 
Here's a breakdown of the evening's schedule:
- Doors open at 9:00 PM
- First set: 10:00 PM - 11:00 PM
- Second set: 11:15 PM - 12:15 AM (with a brief pause at midnight for New Year's kisses, a little feather-shaking, and a toast with complimentary bubbly)
- The celebration continues with the last set 12:30 AM - 1:30 AM
Throughout the evening, light snacks and a variety of beverages will be available for purchase to keep your energy up for dancing the night away. Our dress code is casual and comfortable, so you can move and groove freely on the dance floor.
Don't miss out on this incredible New Year's Eve experience filled with music, dancing, and the spirit of Prince Edward County's vibrant history. Join Shakura S'Aida and her band as we say goodbye to 2023 and welcome 2024 with open arms and a whole lot of style. It's a night you won't want to miss.
We are pleased to offer folks a complimentary shuttle service with stops in Picton, Bloomfield and Wellington. Details including the pick-up and drop off locations as well as timing can be found on our website closer to the event date.
Please note this is a reserved seating event with cabaret tables along with high-top tables & stool seating available.
Shakura S'Aida is an award-winning performer, who has travelled the globe for more than two decades, connecting and inspiring audiences with her powerful vocals. An undeniable talent and an outspoken advocate for human rights and racial equality, her artistic work reflects that which impacts and connects us all: Love, conflict, community, life, and death. "I believe we all have a responsibility to look after each other," says the Toronto-based artist. "I see, create, and use music as a way to bring people together."
Season Sponsor:
ABOUT THE VENUE
Sergeants Mess Hall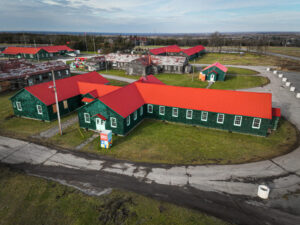 The Sergeants Mess Hall at Base31 is the newest performance venue to open in Prince Edward County. This architectural gem has been renovated and repurposed as a unique and intimate concert venue, featuring state-of-the art sound and lighting, with its original historic charm and character retained. Now with an alluring, cabaret lounge feel and  elevated bar service, this gem of a venue ensures a sophisticated, enjoyable and warm concert experience.
The Sergeants Mess Hall
343 County Rd 22 #7, Prince Edward County