Image Credit: Tristan Peirce Photography
County Stage + Base31 Present:
The Verandah Society
Performed by Megan Murphy and Kate Suhr with musical accompaniment by Leah Grandmont
The Verandah Society is an original show of story and song. What began as a small venture to stay creative and afloat during the summer of 2020, has now grown into an artistic movement. In the vein of Stuart McLean's "The Vinyl Cafe", The Verandah Society is a charming, humorous and heartfelt show that takes audiences on an entertaining and thought-provoking journey, through the use of personal storytelling and song writing. Full of nostalgia, humanity and humour, it's time well spent with neighbours on the proverbial front porch. The Verandah is a place of connection and community, and you're all invited to become members of the society!
Listen to a sample of the music of The Verandah Society here.
Kate Suhr
Kate is a singer songwriter who has been featured at festivals across Ontario, including Boots and Hearts Canada's largest camping and country music festival. Her vocal range is fluid and deep – graceful whispers dip and roll before soaring to powerful highs. On stage, Kate's rapport with audiences is equally magnetic. She divides her time between Toronto and Peterborough, fuelled by the energy of the city as much as intimacy of the small town.
Megan Murphy
Megan has had an interesting and varied career in the performing arts for over two decades. She has worked as an actor in both the Peterborough and Toronto film, television and theatre scenes. For more than a decade, she was a morning show co-host on two Peterborough radio stations, 93.3 MyFM and 107.9 Classic Rock and an afternoon drive co-host on Oldies 96.7. Her short film, Shelf Life, won an audience choice award at the Peterborough ReFrame Film Festival. Her short doc, Towns End, won the audience choice award at the VOX Popular Film Festival in 2018. Megan's most notable work remains the multi-awarded documentary film Murphy's Law, a self-exploratory cycling journey across Ireland that retraced the same journey her late father had made years earlier…on the same bicycle.
Shows are all ages as long as any minor is accompanied by an adult. Please refer to our safety policy if you have any questions.
ABOUT THE VENUE
Sergeants Mess Hall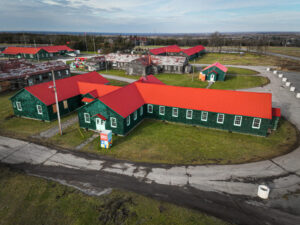 The 180-seat Sergeants Mess Hall at Base31 is the newest performance venue to open in Prince Edward County. This architectural gem has been renovated and repurposed as a unique and intimate concert venue, featuring state-of-the art sound and lighting, with its original historic charm and character retained. Now with an alluring, cabaret lounge feel and  elevated bar service, this gem of a venue ensures a sophisticated, enjoyable and warm concert experience. The space features both reserved seating at cabaret tables and general admission seating ticket options. Enjoy some of the most legendary and impressive names in music, sharing the music you already love, along with your favourite tunes revisited by new artists we know you'll become instant fans of. The Sergeants Mess Hall is an up-close and personal experience with the best of the stage in a beautifully reimagined setting. An unforgettable entertainment experience; it doesn't get any better than this. 
The Sergeants Mess Hall has a rich history dating back to its construction in 1939. The building was originally built as a mess hall for the Royal Canadian Air Force (RCAF) No. 31 Bombing and Gunnery School during World War II. During the war, the building served as a gathering place for the sergeants who were stationed at the base. It was a place where they could relax, eat meals, and socialize with their fellow soldiers. After the war, the base was decommissioned and the building served a variety of purposes over the years, including as a community center, a school, and a storage facility.
EARLY BIRD TICKET CAPACITIES
A limited number of tickets have been made available at the Early Bird ticket rate. Regular ticket pricing will commence once the Early Bird ticket limit has been reached. Early Bird tickets will be on sale until May 21 at 11:59pm EDT or when the Early Bird ticket limit has been reached, whichever comes earlier.
General Admission Seating
Seating is first come, first served in this section.  Please do not save seats for individuals who have not yet arrived. Our goal is to create an enjoyable and comfortable experience for all attendees. Thank you for your cooperation and we look forward to seeing you at the event!
Reserved Seating
We are excited to offer reserved seating for our upcoming event. Please note: our tables at the Sergeants Mess Hall are arranged as tables of four. If you purchase less than four tickets, you will be seated with other attendees at a small table cabaret style. We hope this seating arrangement will provide a fun and sociable experience for everyone. Thank you for your understanding and we look forward to hosting you at the event.
The Sergeants Mess Hall
343 County Rd 22 #7, Prince Edward County