ABOUT FLOAT
The Drill Hall shines a little brighter at Base31 with the addition of 'Float', designed and installed in partnership with Shelter Bay.
Shelter Bay is a Canadian design studio co-founded by Rob Southcott and Sarah Cooper.
The installation of 'Float' weaves together the rich history of Base31 and the promise of its vibrant future. A significant connection to parachutes exists at the former location of No. 31 Bombing and Gunnery School, now Base31. Every soldier, instructor, or recruit had to wear a parachute before taking off. It was never guaranteed that equipment or aircraft would not fail, so they had to be prepared to jump at any time. Buildings 51 and 22, both still standing today, were where the parachutes would be hung to dry prior to being repacked for the next flight. The vents can be seen on the upper section of the buildings that permitted airflow to circulate and aid the drying process. 
CONNECTION TO HISTORY
Jacqui Burley, former Property Manager of the site when Loch Sloy Holdings, shares a story from years ago. A man pulled up to the front office of the base and immediately slumped over his steering wheel. Fearing he was having a medical emergency, Jacqui rushed to his aide only to discover he was sobbing uncontrollably. He had travelled to the base to visit an actual British Commonwealth Air Training Plan site where WWII Allied aircrew had trained. He explained that when he was six-years-old his father had been taken as prisoner of war during WWII, and he recalled hiding beneath the kitchen table of his childhood home with his mother and siblings in Holland as their property became a battleground. Canadian paratroopers landed in his backyard to extricate him and his family from their home, saving their lives. If it hadn't been for sites like No. 31 Bombing and Gunnery School, he would not be alive today to tell the tale.
As newcomers to Prince Edward County, Sarah and Rob of Shelter Bay found themselves watching in awe as modern-day military parachute drills took place in the skies nearby. Sarah and Rob told Base31 they witnessed clouds of parachutes gliding down and it left a lasting impression.  It later sparked their artistic vision for Float. 
"We invite our audience to immerse themselves in this magical fusion of heritage and creativity, as each parachute's ethereal dance and glow captures the essence of flight and the indomitable spirit of those who came before us. Through this installation, we celebrate the resilience of Base31 while embracing the boundless possibilities of its future as a dynamic hub for live music and cultural gatherings. This installation commemorates the sacrifices of the past while inspiring us all to reach for the skies with hope and optimism for the days ahead," the artists said.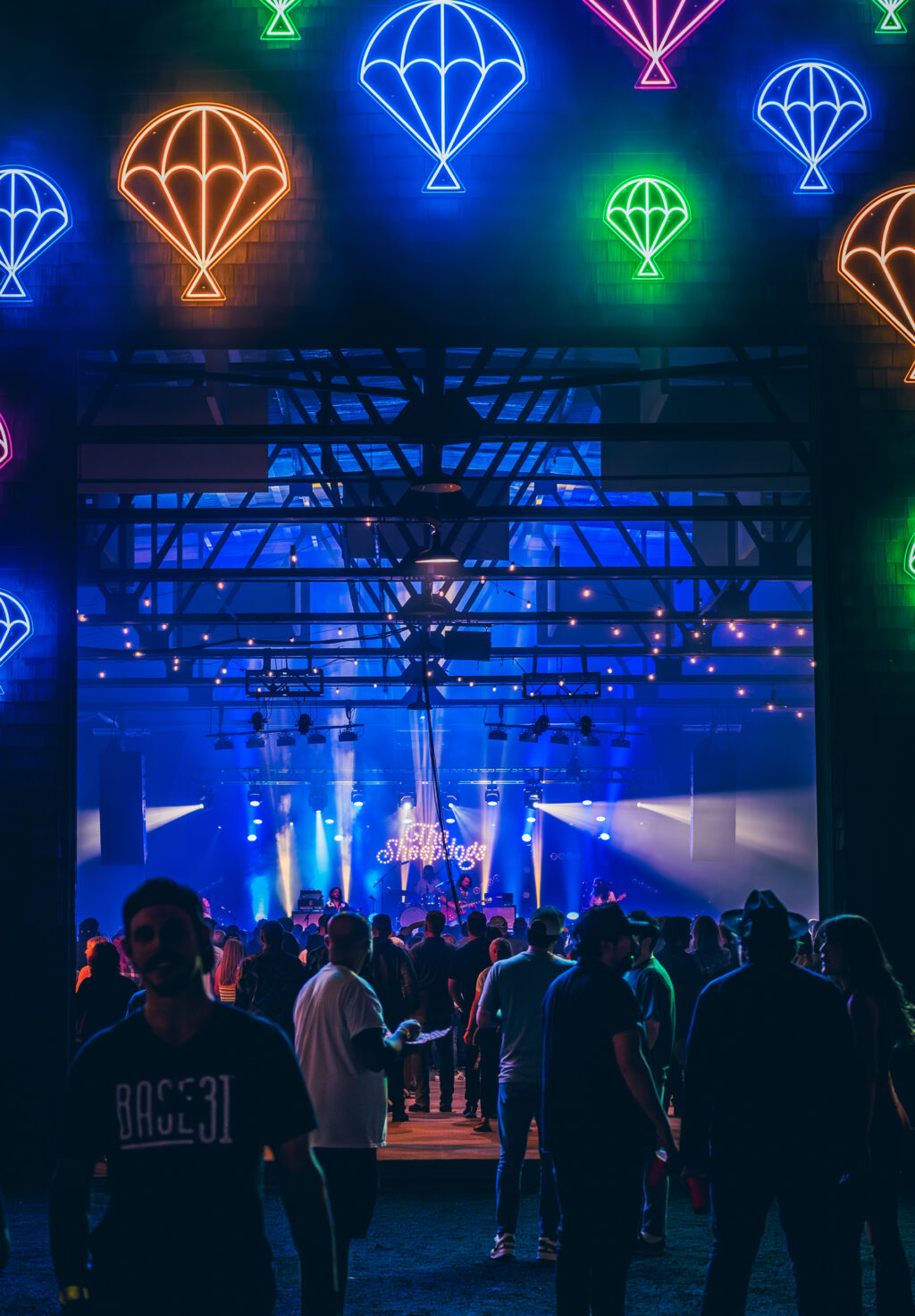 If you're attending any of the Drill Hall Concert Series shows this season, this is a social media-worthy attraction. We invite you to grab tickets to a show and witness firsthand the brilliance of Shelter Bay's creation. And for more fascinating accounts of the history of Base31, you can join Jacqui Burley for a guided Historical Walking Tour. 
Tickets for Concerts and Historical Tours can be found on our website.