November 8 is Indigenous Veterans Day.
In honour of this day, we are highlighting the stories of some Indigenous individuals who lived in Prince Edward County and the surrounding region, and who served in World Wars I and II. Many thanks to the researchers of
The Mohawks of Bay of Quinte
for sharing their records and their time with us.
Private David Green + Private Moses Johns
Private David Green of the Mohawks of the Bay of Quinte and Private Moses Johns of the Akwesasne Mohawk both died on April 10th, 1917. They're both buried in Nord-Pas-de-Calais, France. David was 34 years old when he died, Moses was only 26 years old. They were both killed in action during the Battle of Vimy Ridge during World War I.
David served in Regimental #644772. According to his baptism record from his local church and census data, he was born October 1882 to Alexander and Catherine (nee Maracle) Green. His military records however, including his handwritten attestation, indicate his birthday was August 10, 1892, which would have made him 10 years younger. The Mohawks of the Bay of Quinte found David Green listed on an 1891 Census as a 9-year old boy. Upon closer investigation, it could be inferred that David Green, like many young men of that era, misrepresented his date of birth to appear younger than his actual age, allowing him to enlist in the Canadian military and contribute to the wartime effort. His wounds sustained in the field were fatal. He is buried in Lapugnoy Military Cemetery.
Moses served in Regimental #219503, 50th Battalion, Canadian Infantry, Alberta Regiment. He was born December 21st 1891 in St. Regis, Quebec to Peter Johns, otherwise known as Peter Sawatis, and Christina Roundpoint, but his parents raised their family Picton and Bloomfield. He is listed as "killed in action" and is buried in Canadian Cemetery No. 2, Neuville-Saint-Vaast, France.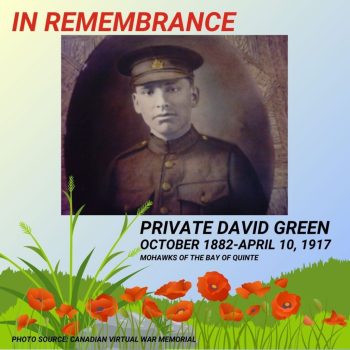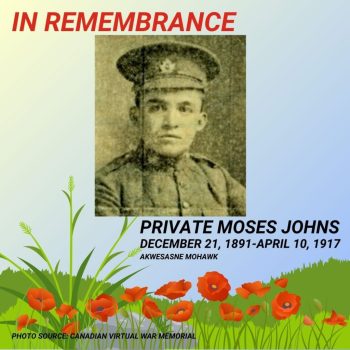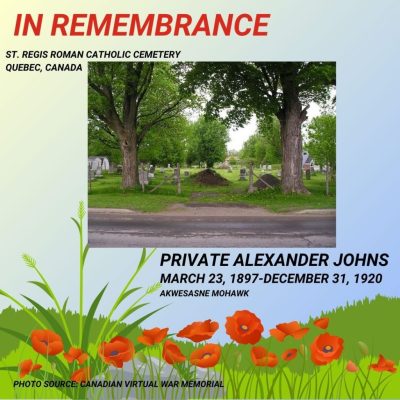 Private Alexander Johns
Moses' younger brother Private Alexander Johns followed him into war, serving in Regimental #219482, 80th Division, Canadian Infantry, Manitoba Regiment. Six years his junior, he died of Tuberculosis in the Howat Sanitorium in Portsmouth, County of Frontenac on New Year's Eve 1920. He is buried in St. Regis Catholic Cemetery in Quebec, Canada. He is the sole casualty of World War I buried in this cemetery. Peter Sawatis and Christina Roundpoint lost two of their sons in the span of only 3 years. Alexander was only 23 years old when he died. His military record indicates his death was due to his military service.
Huron Eldon Brant
Huron Eldon Brant of the Mohawks of the Bay of Quinte was 30 years old when he enlisted to the C-5569 Hastings & Prince Edward County Regiment. He was born December 30, 1909 in Deseronto, Ontario. He left his home in Shannonville to serve Canada in the Second World War, leaving behind his wife Irene of nine years and his vocation as a motor mechanic.
Private H. E. Brant distinguished himself by his prompt and courageous defense attack with his Bren gun on an enemy force of approximately 30 men, causing severe casualties during the battle for Grammichele. He was awarded the Military Medal for Gallant and Distinguished Services in Sicily in 1943. The son of Elizabeth Brant, he was sadly and tragically killed in action a year later. He is buried at Casena War Cemetery, Italy.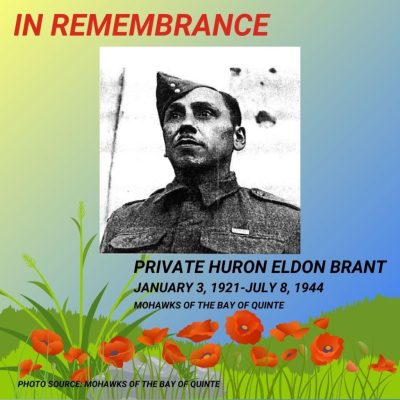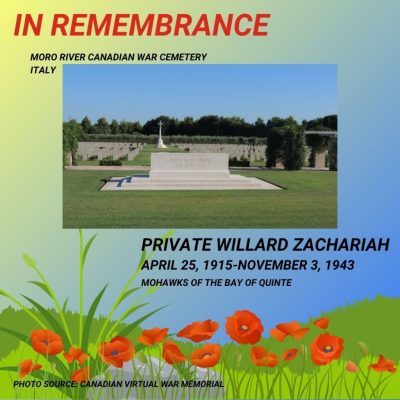 Private Willard Zachariah
Private Willard Zachariah of the Mohawks of the Bay of Quinte was working at Canadian Canners Limited in Bloomfield as a packer shipper when he enlisted in the war on February 26th, 1940. He was just months away from his 25th birthday when he enlisted. His father Alvie had passed away leaving behind his wife Lena,  nine sons and two daughters. Willard married his wife Phyllis on December 25th, 1940, 10 months after he enlisted and just before he left for overseas.
Private Willard was shot in the head during combat while stationed in the Mediterranean Theatre of War on October 27th, 1943. He was hospitalized, but sadly died seven days later on November 3, 1943 as a result of the injury. He was initially buried in the British War Cemetery in South Severo, Italy, but was later reburied at Morro River Canadian War Cemetery in Ortona, Italy March 27, 1945.