The Call
Base31 has been collecting archival photographs and stories from the community, who have a connection to the site. We put out
this call
in June, and continue to ask for more. 
More stories, more faces, more people, more community.
Do you have a photo of a relative who was stationed at Base31? We would love to see it and consider it for installation in a similar fashion to the photos pictured below. 
Do you know someone who has photos of humans at Base31? Any faces. We are looking to focus on photos from the 40s and 50s but will consider images from other eras. All are welcome to submit as long as the image includes a human.
You can submit your photos electronically by emailing art@base31.ca
You can also drop by the Base31 office at the main entrance (Building 26) to submit photographs in person.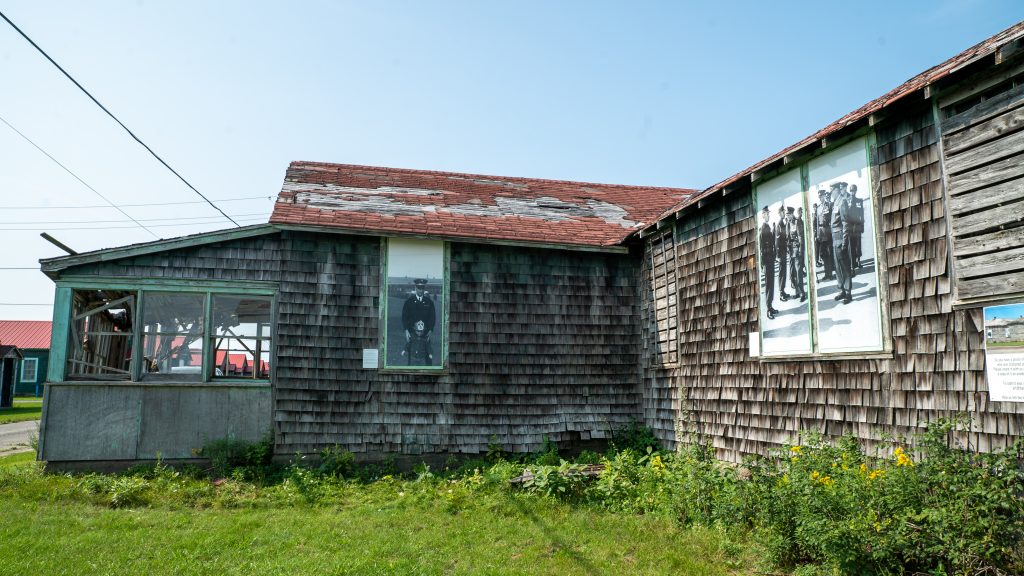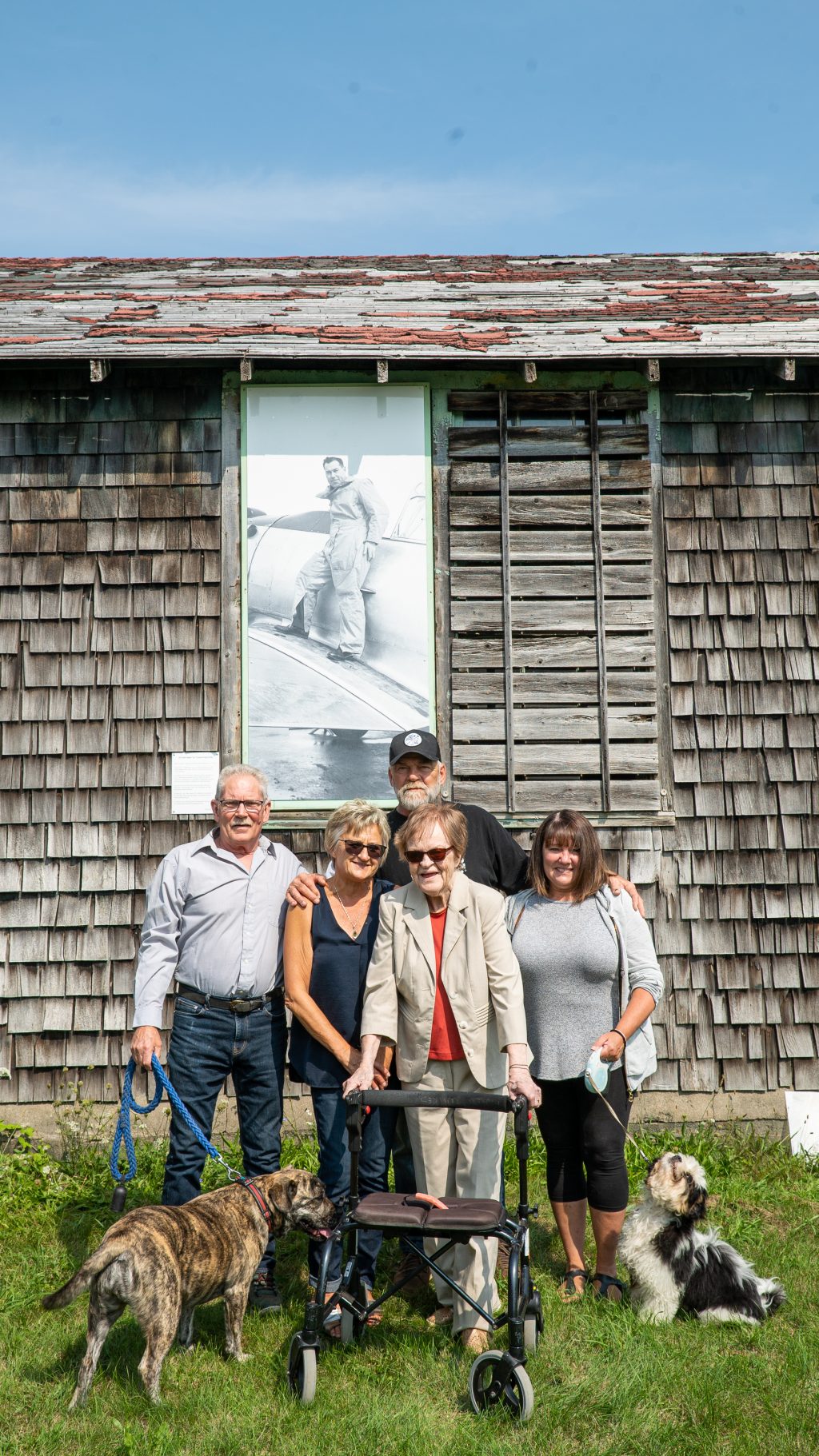 The
first archival photograph installation
took place in early July, and two more were installed Saturday, Sept. 17.
Patsy Redmond along with family came to view the enlarged photograph of her late father, LAC Smith Edward "Tex" Crymes, who was a member of the Conversion Training Squadron stationed at Base31 when it was formerly known as No. 31 Bombing and Gunnery School during WWII.  Here is Patsy's account of her father:
"Meet my father, Leading Aircraftman Smith Edward "Tex" Crymes. He was born in Arkansas, U.S.A. in 1907 and was one of the United States airmen who came to Canada early in the war to join the RCAF. A member of the Conversion Training Squadron stationed at No. 31 Bombing and Gunnery School, Picton, he was an instructor in bombing and a specialist in armaments. He had previously participated in campaigns in Haiti and Mexico. During his time in Picton, he met my mother, a local girl, Ola Dever. They married in April 1941. My father was later stationed to Newfoundland. On May 6th, 1942, after taking off in Halifax, he and seven of his comrades were tragically killed in an airplane crash in Torbay, Newfoundland. In memory of my father dying in the service of this country, my mother later received the Memorial Cross."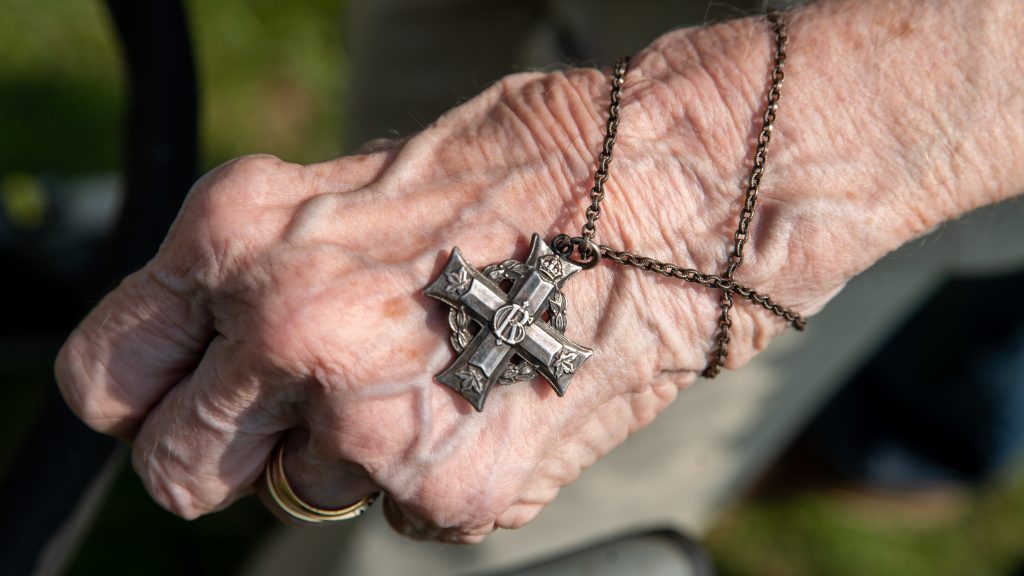 Tim Walsh and his family took in their historical photograph as well, featuring B.G. (Barney) Walsh, Camp Fire Chief, who worked on site from 1954 to 1969.
"This photo of my father Barney Walsh and me, was taken in 1961, in the backyard of Building 42 where we lived. Camp Picton was a great place for a young boy to grow up in the 1960's. My family and I left when I was twelve at the time the camp closed. I have many great memories of Camp Picton but one particularly stands out. In 1967, the rehearsals for the Canadian Forces Tattoo, celebrating Canada's centennial year, took place at Camp Picton. The Tattoo shows were very large events that toured the country from coast to coast. Members of all branches of the military – the Royal Canadian Navy, Canadian Army and Royal Canadian Air Force – came to Camp Picton to plan and rehearse the shows before performing in every Province."
For any questions around this project, please get in touch at art@base31.ca
We can't wait to see the humans of Base31 and honour their experience of this place.